Funding Cuts Make Proud Eagles to Soar High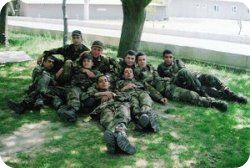 Funding is not a hindrance to success and this has been proven many times over by many people that succeed in life even through meager budgets. This only goes to show that even with a little budget the show must go on no matter what. The success is sweeter when you are faced with challenges before achieving it.
This situation is also true with the cadets of the Francis Marion Military Academy. They have continued their marching and other activities despite budget cuts – because they are the so-called eagles that want to soar high. Career education for them is very important and they can continue dreaming even with very limited funds.
Just recently, four cadets discussed homework assignments on mathematics and world history and sat a picnic table. This, despite of the fact that they knew of the situation of organizers and volunteers having a hard times coping with financial crisis that is also now shaking the budget of the school as well as on the student's career education.
Legislators knew that the economic downturn is challenging them in which they headed to Tallahassee this week purposely and conducted thorough discussion in the school's shrinking finances. It was known that this year an estimated shortfall of the state is estimated to reach $2.3 billion. Lawmakers are now looking for the solution to minimize budget deficits before the economy could rebound in April of 2010 according to economic analysts.
Unfortunately for the Marion County Public Schools a shortfall close to $40 million is also seen to challenge legislators. This is also the main reason why the budget shortfall of schools also came. It is reported that the military academy which has been receiving $23,000 in monthly checks is now dwindling to only $18,000. It was also reported that even a boarding school is also faced with this kind of dilemma.
Col. Martha Cieplinki, school's director also feared that another cut of 20 percent will be made again soon that would also reduce it to $3,000 from the present $15,000. As a matter of fact, Cieplinski said to be able to control the continued reduction they are now considering of applying for a $250,000 grant for school year 2009-2010.