Learning's in Military Schools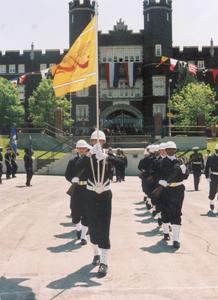 In the

United States

, there are several military schools that are existed. Most of these military educational institutes are

boarding school type for boys

. The educational learning systems that they practice are in accordance with the military concept, principle and system but they still follow the educational standard of the nation such as the field of study and educational phase or educational grade level. These

military educational institutes

are the preparatory phase for individuals who want to pursue military career and also a preparatory for college educational level. Since, most military schools are offering educational services from 8th grade to 12th grade. It can be observe that most of the individuals who are enrolled to this type of educational system came from a military family. In which, their parents are part of the military system in the United States. In that manner, lots of the military personnel wants that their children will follow their footstep or if not, at least learn about military education. Since, it has been observed that military educational system offers lots of advantages to the life of the individuals who will be enrolling to this educational learning system. Just like the case of Daniel McKinney.
In which, during his high school days he attended the military school of Fishburne Academy at Waynesboro, Virginia and now was one of the great lawyer in the state of Virginia. According to him, the learning's that he got in the Fishburne Academy serve as a guiding path for his success in life especially in career area. These learning's that he gained while he was in the military school life were the concept of duty, honor, patriotism, and respect of authority. These aspects help him a lot to become a better individual in the society and guided him to achieve his goals in life. In that matter, he wants that his children or grandchildren will also obtained great learning's that a military education or training is offering. No wonder that most of his children and grandchildren have undergone military educational training during their high school years at Fishburne Academy.
Indeed, it is quite clear that the individuals who have undergone a military education or training will usually like it is experience. As a result they will convince there family members or children to forego this type of educational system. In which, it does not necessary mean that those individuals who are enrolled to military schools will be pursuing a military career but rather just aim of the military school values that it offers and other learning's that can be used for life time living.