Medical Military School for ASVAB Passers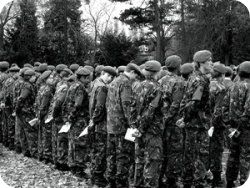 The medical military school is obviously not for everybody that wants to join in the military profession. It is only limited to the students that want to become involve in the military profession specializing in medical education. Medical training in the military as well as their medical career also depends on how they are connected within the military organization.
Usually, the medical personnel, that is both enlisted and officer, worked in the Army, Navy or Air Force. The marines are only supported by the Navy personnel that are in the medical profession. The US Public Health Service is also a uniformed service even though they are not in the military force.
The general rule in joining the military profession when it comes to age limit is 17 up to 35 years old, either a citizen or legal alien, in good health and with good moral character. For interested people joining as enlisted person, the minimum requirement should be at least got a minimum score in the examination conducted by the Armed Services Vocational Aptitude Battery (ASVAB) When aspirants passed the ASVAB they may be able to sign up for the medical technical training.
Most medical officers join the Reserve Officers Training Corps (ROTC), the Uniformed Services University and the Armed Forces Health Professions Scholarship Program. The ROTC offers scholarships to interested ASVAB passers if they commit for a post-graduation service to the military service. However, the service commitment can be delayed also if the applicant wants to complete a degree related to the medical profession. The Nursing ROTC program is also offered in the Army. The online degree programs are now incorporated in the training.
There are also other scholarships for medical related professions offered in the Air Force, Navy and Army such as optometry, dental, medical, nurse anesthesia and osteopathic students. Qualified students can enjoy a full tuition, books reimbursements, monthly stipends, including a 45-day active duty during military training.